Available now!

Stock arriving at distributors now, priced around $150. Place orders via links at https://beaglev-fire.org.
BeagleBoard.org, a pioneer in open-source single-board computers (SBCs), is excited to unveil the BeagleV®-Fire, a revolutionary SBC powered by the Microchip's PolarFire® MPFS025T FCVG484E 5x core RISC-V System on Chip (SoC) with FPGA fabric. This remarkable addition to the BeagleBoard.org BeagleV® family of boards opens up new horizons for developers, tinkerers, and the open-source community to explore the vast potential of RISC-V architecture and FPGA technology.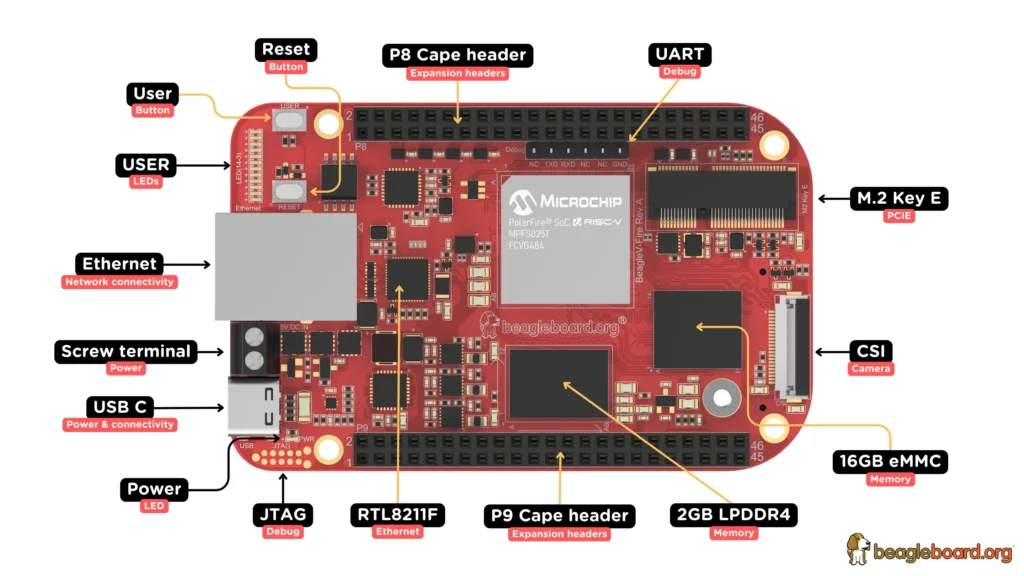 BeagleV®-Fire is the second board in the BeagleV® series of single board computers (SBCs) from BeagleBoard.org. BeagleV®-Fire like other BeagleV® SBCs, is set to revolutionize the world of embedded systems and empower developers and enthusiasts worldwide. After the launch of BeagleV®-Ahead, BeagleV®-Fire represents another significant milestone in the democratization of computer architecture and open-source hardware development for the masses. Built around the powerful and energy-efficient RISC-V instruction set architecture (ISA) along with its versatile FPGA fabric, BeagleV®-Fire SBC offers unparalleled opportunities for developers, hobbyists, and researchers to explore and experiment with RISC-V technology.
With its compact form factor, robust performance, and versatile I/O interfaces, BeagleV®-Fire SBC is well-suited for a variety of applications, including Internet of Things (IoT) devices, robotics, artificial intelligence, and embedded systems. Some key features and specifications of the BeagleV®-Fire SBC include:
RISC-V CPU: 4x 64-bit RV64GC application cores & 1x 64-bit RV64IMAC monitor/boot core with performance score of 3.125 CoreMarks/MHz & 1.714 DMIPS/MHz.
FPGA: 23K logic elements (4-input LUT + DFF), 68 Math blocks (18×18 MACC), and 4 SerDes lanes of 12.7 Gbps.
Memory: Kingston 16GB eMMC, 2GB LPDDR4 RAM, and microSD card socket.
Networking: Gigabit Ethernet, M.2 Key E, support 2.4GHz/5GHz WiFi module.
Connectivity: USB Type-C and Serial debug.
Add-on board expansion: High speed SYZYGY interface, 22pin CSI connector, BeagleBone compatible 92-pin cape header pins.
Open-Source Design: BeagleV®-Fire follows the principles of open-source hardware, allowing users to access and modify the board's design and firmware, promoting collaboration and innovation within the RISC-V community.
Linux-Compatible: BeagleV®-Fire comes with Ubuntu preinstalled out of the box.
BeagleBoard.org has a strong track record of developing open-source hardware platforms, and the launch of BeagleV®-Fire reinforces our commitment to fostering innovation and collaboration within the technology community. By making the RISC-V architecture accessible to a broader audience, BeagleV® Fire empowers developers to explore new possibilities, accelerate their projects, and contribute to the advancement of the RISC-V ecosystem.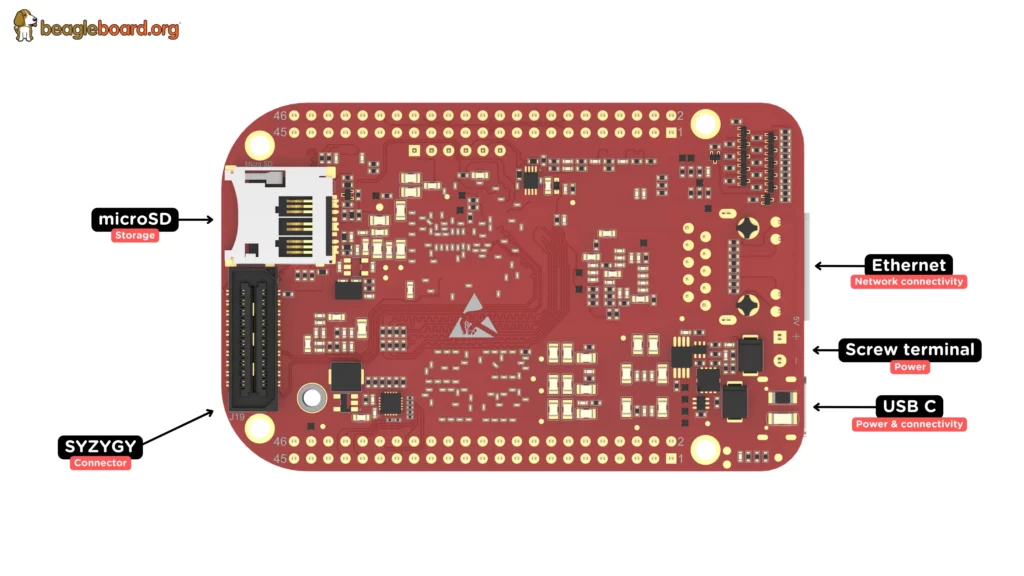 "We aren't just interested in openness at the board level, or even at the instruction-set level; we want to pave paths for everyone interested in what digital technology can enable in sensing and controlling the world around them and BeagleV®-Fire marks significant progress down that path." said Jason Kridner, Co-Founder of BeagleBoard.org "By harnessing the power of Microchip's PolarFire® FPGA SoC IC and embracing the RISC-V architecture, we are unleashing the potential for groundbreaking innovation within the open-source community."
 "We share the open source community's commitment to design freedom and flexibility and look forward to the projects that will be built using our multi-core PolarFire SOC, which bring asymmetric processing, power efficiency, security and reliability to intelligent edge applications," said Bruce Weyer of Microchip Technology's FPGA Business Unit. "We applaud BeagleBoard.org for its longstanding leadership in fostering innovation, collaboration and proliferation of RISC-V's open source ISA."
About BeagleBoard.org:
BeagleBoard.org is a non-profit organization focused on developing open-source hardware platforms that foster innovation and collaboration. They have a rich history of creating accessible, versatile, and powerful single board computers, enabling developers, hobbyists, and researchers to bring their ideas to life.