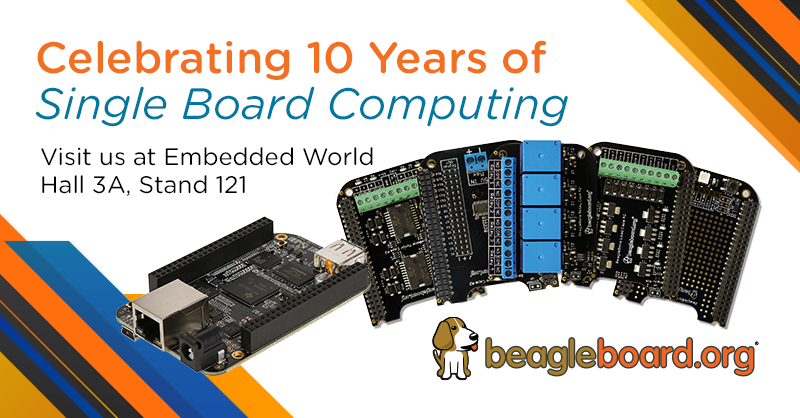 Join BeagleBoard.org at Embedded World Exhibition and Conference, February 26-28, 2019. in Nürnberg, Germany.
Workshop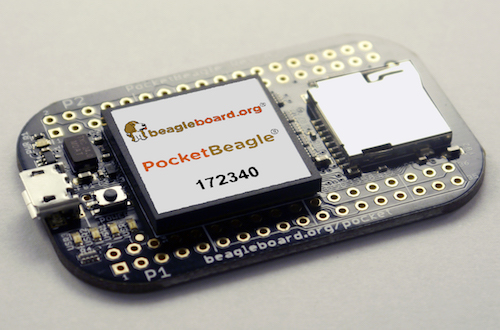 Register Now for a no-additional-cost Hands-On Coding Workshop with BeagleBoard.org® PocketBeagle® , February 27, 2019 from 2:30-5:30pm This getting started workshop with PocketBeagle® will cover the basics of coding with open-source Linux based software using online IDE Cloud9 and adding sensors and outputs – each lab has beginner, intermediate and advanced options. – Register now – Limited seats!
Meet with BeagleBoard.org at the Show
Schedule a meeting at the show with Jason Kridner, our Co-founder or Christine Long, our Executive Director. Use the link below to pick a day and time (make sure you choose Central Europe Time). Meetings will be held at Hall 3A / Stand 3A-121.
Schedule meeting at Embedded World
See us at the Booth!
BeagleBoard.org will be demonstrating the latest single board computing platforms, capes and applications. We have some exciting new projects from the community in Hall 3A / Stand 3A-121. Stop by and speak to us about your need for Embedded Linux Computing, whether for rapid prototyping for AI, an Industrial project or a small IoT device.