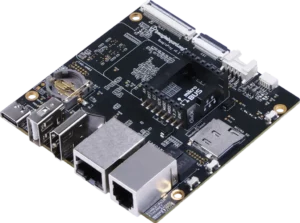 Reposted from https://bootlin.com/blog/bootlin-embedded-linux-course-now-available-on-beagleplay/.
Earlier this year, the BeagleBoard.org foundation announced the availability of a new development board, the BeaglePlay, centered around the Texas Instruments AM625 ARM64 processor. Bootlin has for a long time supported the BeagleBone Black as one of the hardware platforms used in the practical labs of its training courses, and we are happy to announce today that we now have added support for the BeaglePlay to our most popular course, the Embedded Linux system development course.
This means that participants to our Embedded Linux system development course can now choose to perform the practical labs on the BeaglePlay, experiencing a new and modern hardware platform, based on an ARM64 processor. This applies not only to participants choosing to purchase our course, but also to everyone else in the world, as our training materials are all freely available and distributed under an open-source license. The materials are all available on our Embedded Linux system development training course page:
We would like to thank Clément Ramirez who has worked with us on this effort of porting this course to the BeaglePlay platform.
"Bootlin is a leading provider of high-quality, in-depth Linux education. What amazes me is how much they not only support open source with outstanding teaching, but how much they stand behind the principles of open source by sharing their teaching materials and contributing to the open source projects that drive them." said Jason Kridner, founder of BeagleBoard.org. "BeagleBoard.org shares these principles and that is why I believe BeaglePlay is an excellent choice. BeaglePlay doesn't just run open source software, the hardware itself is open source with detailed documentation on the board and associated Texas Instruments AM625 system-on-chip, with availability to enable hobbyists and professionals alike from prototype to production. I couldn't be more excited."
Bootlin's Embedded Linux course, like all our training courses, is available in 3 different options:
Public on-line sessions, delivered by video-conference, with a per-participant registration, and sessions organized at dates scheduled by Bootlin. See this page for more details, dates and registration process
Private on-line sessions, also delivered by video-conference, organized privately for your team, at the date of your choice. See this page for more details
Private on-site sessions, where one of our experienced engineers and trainers travels to your location, to teach your team in person. See this page for more details
In both our private on-line sessions and private on-site sessions, our customers are free to chose, among our set of supported platforms, the HW platform they would like to use for the practical labs, and this now includes the BeaglePlay. In our public on-line sessions, the trainer demonstrates the practical labs on one particular platform, but participants are able to reproduce the labs on the platform of their choice among our supported platforms.
With this new development, we look forward to continue our mission of helping the broader engineering community get trained on embedded Linux technology and expand the number of users and contributors to open-source technologies and communities.